BEACHCANDY SWIMWEAR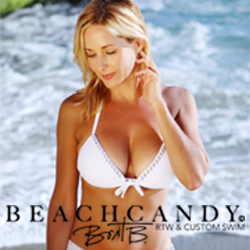 Click Here For This Years Full BeachCandy Range.
BeachCandy Swimwear Range Was and Still is Owned, Founded and designed by the passionate Brit B who has an eye for Luxury Bikini
Brit B. who lives and works in Califonia (in which some would argue that it is the best destination to show off your Bikini) has a very passionate for swimwear designs. She is Detailed for all types of women that really do appreciate Quality, Beauty and the small fine details of clothing.
She doesn't just do one kind of swimwear she also caters for women of different body types and of all ages. So you Can say that Brit B. goes The extra mile in her Luxury Bikini range
What Brit B. Does For The BeachCandy Swimwear range is she loves to mix up women's sophistication with women's sexiness. So you know what you get with beach candy is rich colors, amazing patterns, and prints and also Uniqueness that you really can't get anywhere else.
With attention to detail that has benefits like, very supportive bikini tops, rare flattering figure styles and The best in High-Quality Italian Materials that will last you a lifetime.
Brit B Beachcandy swimwear range does really go the extra mile as she knows the beauty of a real women's body and never uses fake models, she knows that all women are made different so in her range, you will have adjustable bikini tops that are targeted for A cups Right Up To DD cups.
So if You have been Searching for Luxury Bikinis that really fits your own body that makes women feel like it was designed for them then Beachcandy is right for you. For any Woman that wants to feel glamorous in a Luxury Bikini
Showing all 4 results